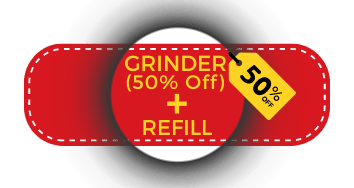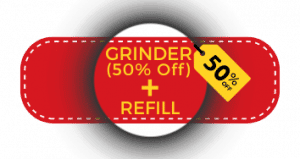 ⭐⭐⭐⭐⭐ "The IMPERIAL Gourmet has an INCREDIBLE AROMA of Chocolate and Orange peel, immediately EXCITES any passionate about gastronomy."
👉There's nothing quite like the feeling of cooking and falling in love at the same time. And when you're using Black Imperial Gourmet, that feeling is magnified tenfold. As you whip up your culinary creations, your senses will come alive, connecting with the delicious flavors and aromas in a way that's both delicate and sensual.
Our family's Black Imperial Gourmet is a true labor of love, carefully harvested only during the summer or winter and never mixed with other seasons. It's then gently oven-roasted using artisanal techniques to preserve the supreme quality of the black peppercorns, which are widely regarded as the best black peppercorns for cooking.
So why settle for anything less than the best? Treat yourself to the ultimate culinary experience with Black Imperial Gourmet and fall in love with cooking all over again.
👉 DELIGHT YOUR SENSES WITH GENUINE CULINARY NOTES (Sensory Profile)  If you want to add a unique flavor to your food, try using BLACK IMPERIAL Gourmet black peppercorns. These peppercorns have an intense grade 8 flavor profile that includes notes of chocolate, orange peel, vanilla, tangelo or green mango (during winter), and cocoa aromas. They are perfect for enhancing the flavor of dishes such as cheese, soups, stews, BBQ grills, red meat, fish, and more. BLACK IMPERIAL Gourmet black peppercorns are the best choice for any cooking enthusiast, the best black pepper for cooking
👉 RELIABLE REFILLABLE PEPPER GRINDER,  equipped with a strong and durable food-grade ceramic core system that lets you adjust the grind size of Yupanqui Peppercorns according to your culinary preference. You can choose from X-small, Small, Medium, Large, and X-large grinding sizes. What's more, it is 100% natural.
👉 100% NATURAL AND SUSTAINABLE☘️ because it is made exclusively from pure and genuine Yupanqui Black Peppercorns. These peppercorns belong to the Super Premium Artisan category and have been cultivated and developed by the Yupanqui Family for more than three generations, following their ancestral agricultural traditions. Our product is completely free from GMOs, chemical fertilizers, and ETO, and is non-irradiated. It is processed in an allergen-free HACCP-certified plant. You will love our product, or we can assure you of a refund.
👉 LOVE IT OR YOUR MONEY BACK (Refund Policy): If you are not completely satisfied with the contents of the package, we offer a 30-day return policy. We are not just looking for customers but for partners in culinary adventures who share the same passion for taste and flavor as we do. We welcome all those who identify themselves as #YupanquiPepperLovers and share our love for the perfect blend of sensory experiences.
[ ⭐⭐⭐⭐⭐PRO REVIEWS ]
THE YUPANQUI
Yupanqui Black Pepper is a unique culinary treasure. We believe that the Yupanqui Black Pepper is more than just a spice. It's a gourmet treasure that we cultivate with the utmost care, following our ancestral traditions. We believe that every peppercorn is a unique masterpiece, and our artisanal black pepper is definitely one of them. We take great pride in the fact that every year, it achieves one of the highest concentration levels of piperine and essential oils, making it stand out from the rest. We invite you to join us on a journey to discover the flavors and richness of our Black Pepper and to experience the passion and dedication that we put into every single peppercorn. So go ahead, add a sprinkle of Qui Black Pepper to your dish, and elevate your taste buds to a whole new level. Let the magic of our Black Pepper inspire you to explore new culinary horizons and create unforgettable moments with your loved ones.
👨‍🍳 Sommelier: Intensity Grade 8. Intense and long-lasting, it thrills the most demanding palate. It has a delicious aroma, shades of orange, tangelo, cassia, and wood, with a rough texture and strong character. On the palate, it generates an aureole that resembles a lasting sensation of orange peel and mango. "A culinary wonder, the Best Black Peppercorns."
💡 Cooking TIPS for Gourmet Peppercorns: Extremely versatile, it enhances the flavor of any fresh, fried, aged, baked preparation, etc.; it combines with everything. It's lovely if it's used whole in preparations that need a longer cooking time to extract all its intensity, such as broths and stews… The perfect companion for fish rich in omega-3 such as salmon, sardines, tuna, mackerel, anchovies, trout, grouper, hake, etc. Ideal in all sauces or pasta, mature cheeses, and pates.