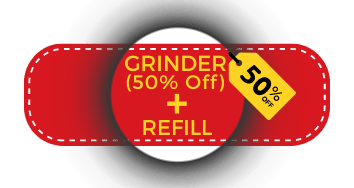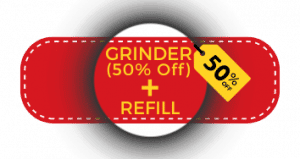 ⭐⭐⭐⭐⭐ "It is an incredible marine sensation; you feel the sea in every bite."
👉 ENJOY THE NEW ORGANOLEPTIC SENSATIONS that you will get in your next culinary adventures because Yupanqui White Pepper Grinder will add complexity to your dishes since it envelops them with a sweet and very fresh perfume with robust notes of  ✔aniseed, ✔nuts, and ✔boreal sea, with a strong Intensity Grade 8. Recommended for ✔👨‍🍳 fresh or steamed vegetables, ✔👨‍🍳 vegetables, and rice in general, ✔👨‍🍳 poultry and white meats, as well as ✔👨‍🍳 seafood and ✔👨‍🍳 fish
👉 REFILLABLE & REFILLABLE WHITE PEPPER GRINDER, strong glass made with a robust internal (core) system of food-grade ceramic (no plastic!) that allows you to easily regulate the grind size of the Yupanqui White Peppercorn according to your culinary requirements.
👉 100% NATURAL AND SUSTAINABLE ☘ because it is exclusively pure and genuine Yupanqui White Pepper, Super Premium handcrafted category, entirely cultivated and developed by the Yupanqui Family for more than three generations, following their ancestral agricultural traditions. [No GMO, No Chemical Fertilizers, No ETO, Non-Irradiated. Processed in an Allergen-free HACCP-certified plant].
👉  LOVE IT, OR YOUR MONEY BACK, because if you are not satisfied with the content of the package, we will return your purchase within 30 days (Refund Policy) because more than an eventual consumer, we are looking for accomplices; we are looking for comrades of culinary adventures that feel and vibrate at the same sensory rhythm similar to ours, and that by genuine desire feel identified with other #yupanquipepperlovers.
[ ⭐⭐⭐⭐⭐PRO REVIEWS ]
YUPANQUI
Introducing our Yupanqui White Peppercorns – a testament to our commitment to quality and excellence. Our White Premium peppercorns are carefully processed to achieve a specific state of maturity, ensuring that they are of the highest quality. We take pride in removing the skin from each peppercorn, using completely natural methods without the use of chemicals. The result is a pure and natural white heart that is ultra-fresh, creamy, and voluminous.
We believe that the best ingredients make the best dishes, and that's why we offer only the finest quality Yupanqui White Peppercorns. Our product is perfect for gourmet chefs who want to elevate their meals to the next level. A pinch of our premium white peppercorns will add a burst of flavor and aroma to any dish, making it stand out from the rest. Trust us – once you try our Yupanqui White Peppercorns, you won't settle for anything less.
👨‍🍳Gourmet Peppercorns Sommelier: Rated Intensity Grade 8 -9 . For those seeking a refined and unique culinary experience, we highly recommend trying the  Yupanqui White Premium Pepper. This exquisite spice boasts a sweet MINT aroma, accented by subtle notes of SEA BREEZE and anise that will delight your palate. As you savor the flavor, you'll detect hints of tropical fruit, damp soil, and wood, as well as the rich nuttiness of almonds, pecans, and freshly ground walnuts.
💡 Cooking TIPS for Gourmet Peppercorns: All fresh or steamed vegetables and rice are enhanced with Yupanqui Pepper® White Reserve Magnus Yurak or White Premium, either in salads or cooking, always at the end of them if it's milled or at the beginning of the cooking if it's used whole. Use it in any sauce, pasta, or dough in which we seek intensity without "staining" with colors or pieces of the shell of the other peppercorns, mainly for perfect visual presentation. You can use it to reduce the use of salt as it balances the dish subtly. Typical and indispensable in Béchamel, light sauces, mayonnaise, creamy sauces, and soups. It combines wonderfully with cream, custards, butter, and its derivatives, ideal for seafood, especially shells, mussels, clams, oysters, fish, shrimp, crabs, white meats, and poultry.