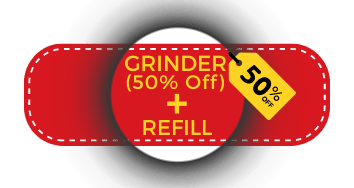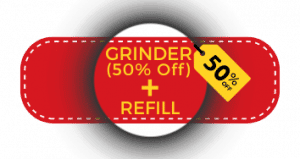 ⭐⭐⭐⭐⭐ for a perfect BLACK PEPPER ANGUS STEAK "… Definitely its powerful personality, so masculine, so alpha, prevails on the plate."
👉 ENJOY THE IDEAL PARTNER OF THE BLACK PEPPER ANGUS STEAK (World Unique) because the MAGNUS YANA is a delicate and beautiful GIANT gourmet black peppercorn, category Great RESERVE, aged and slowly roasted in the sun🌞 only during the hottest mornings of equatorial summer, considered as the best for the Black Pepper Angus Steak🥩 & Cocktails🥂
👉 RELIABLE REFILLABLE PEPPER GRINDER, with a robust internal system (core) made of food-grade ceramic (not plastic!) that allows you to regulate the grind size of the Yupanqui pepper grain easily, according to your culinary preference, in sizes X-Small, Small, Medium, Large, X-Large (X-Large size recommended for the YANA)
👉 DELIGHT YOUR SENSES WITH GENUINE CULINARY EXPERIENCES because Magnus YANA boasts notes of tropical Forest, Tobacco, Roasted Barley, and Malt with a particular Intensity Grade of 7 to 8 depending on the vintage and is widely recommended for ✔👨‍🍳 Steaks, ✔👨‍🍳 BBQ, and ✔👨‍🍳 Cocktails
👉  LIMITED EDITION 100% NATURAL AND SUSTAINABLE because it is exclusively pure and genuine Yupanqui Magnus YANA Peppercorn, a limited edition artisan Grand Reserve category, entirely cultivated and developed by the Yupanqui Family for more than three generations, following their ancestral agricultural traditions. [No GMO, No Chemical Fertilizers, No ETO, Non-Irradiated. *Processed in Allergen free HACCP certified plant]
👉 LOVE IT OR YOUR MONEY BACK; if you are not satisfied with the contents of the package, we will return your purchase within 30 days because more than an occasional consumer, we are looking for accomplices; we are looking for comrades of culinary adventures that feel and vibrate at the same sensory rhythm that we, and that by genuine complicity, feel identified with other #YupanquiPepperLovers
[ ⭐⭐⭐⭐⭐PRO REVIEWS ]
THE YUPANQUI
It's the FAMILY RESERVE Black Pepper, "a fearless and exotic giant gourmet peppercorn" The YANA (translated to BLACK in Kichwa) is achieved through a supreme selection on the plantation. We gather the peppercorns when The Moon is at its most considerable splendor, following our traditions, selecting only the bunches that are distinguished by their extreme development and brightness.
Ironically, these giant grains become extremely delicate once they're harvested. It's a slower process because, due to its size, it's almost impossible to artificially dry (that's why you may find small pieces of peel)
👨‍🍳Gourmet Peppercorns Sommelier: Intensity grade 8. It has high levels of essential oils; It's as intense and long-lasting as the  BLACK IMPERIAL. Thrills the most demanding palate. This MAGNUS  YANA Reserve has a soft and delicate aroma, extremely pleasant on the nose. It has a delicate acidity similar to the taste of tropical fruits. This unique gourmet peppercorn has notes of  ✔Leather  ✔Tobacco and ✔Rainforest (Wood); after tasting, it has soft notes of ✔Citric Fruit with hints of ✔Malt and ✔Roasted Barley. It is the Best Black Pepper for Steak and Cocktails.