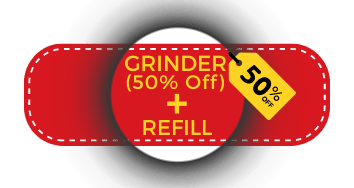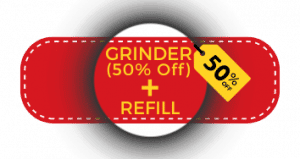 ⭐⭐⭐⭐⭐ "This fragrant green peppercorn, so herbal and sexy, is undoubtedly the ideal companion for Italian cuisine."
👉 DISCOVER THE PLEASURE THAT A UNIQUE HERBAL & FRUTY GREEN PEPPERCORN BRINGS TO YOU because it is only our family harvest of reduced volume through which we achieve a green peppercorn of very soft and delicate herbal and fruity aroma, which due to the position of our orchard, in the center of our planet Earth, acquire a particular coloring with a very subtle phosphorescent tone.
👉 RELIABLE & REFILLABLE PEPPER GRINDER made of glass, with a robust internal system (core) of food-grade ceramic (no plastic) that allows you to easily regulate the size of the Yupanqui Green Peppercorn grinding, according to your wishes, to extent X-Small, Small, Medium, Large, X-Large.
👉TAKE YOUR KITCHEN TO A SUPERIOR GOURMET LEVEL, characterized by an herbal personality, because as the Yupanqui Green Peppercorns are made under an exclusive artisanal process, which the family designed so that each grain retains its tropical essence, the grains are very pleasant to the touch, with soft reminiscences of tobacco, cloves, herbal and citrus aromas in perfect balance; with mild intensity Grade 5 to 6. Recommended for ✔👨‍🍳Desserts, ✔👨‍🍳 Cheese, ✔👨‍🍳 Pork, ✔👨‍🍳 White Meats, ✔👨‍🍳 Fish, ✔👨‍🍳 Coffee, ✔👨‍🍳 Cocktails, and ✔👨‍🍳 Infusions and of course, in any Green Peppercorn Sauce Recipe
👉100% NATURAL AND SUSTAINABLE GREEN PEPPERCORN ☘ because it is exclusively pure and genuine Yupanqui Green Peppercorn, Ultra Premium category, cultivated and developed by the Yupanqui Family for more than three generations, following their ancestral agricultural traditions. [No GMO, No Chemical Fertilizers, No ETO, Non-Irradiated. Processed in an Allergen-free HACCP-certified plant]
👉  LOVE IT, OR GET YOUR MONEY BACK. If (Refund Policy) you are not satisfied with the content of the package, we will return your purchase within 30 days because, more than an eventual consumer, we are looking for accomplices. We are looking for passionate people who feel and vibrate at similar sensorial rhythms to ours and who, by natural identification, feel part of other #yupanquipepperlovers all over the world.
[ ⭐⭐⭐⭐⭐PRO REVIEWS ]
YUPANQUI
Our Yupanqui Green Peppercorn is truly exceptional, thanks to our artisanal process that employs low-volume production techniques. This ensures that the beautiful peel remains almost intact while the grains are silky smooth to the touch. These peppercorns have a gentle and delicate aroma that is consistently fruity, with subtle hints of lime and toasted herbs. Our location, situated in the heart of the earth, gives our peppercorns a unique and radiant hue.
👨‍🍳Gourmet Peppercorns Sommelier: I would rate the intensity of this selection as 5 to 6. You can expect to experience soft hints of lime peel, tobacco, and cloves, as well as fruity and mildly spicy notes. These specialty peppercorns offer unique sensations that can enhance your culinary creations
💡Cooking TIPS for Gourmet Peppercorns:  Are you tired of your meals tasting bland and uninspired? Spice things up with Magnus Waylla or GREEN PREMIUM Yupanqui family Green Peppercorns! These little flavor bombs are like a secret weapon for your kitchen. They add a zesty kick to everything from chicken to fish and are perfect for experimenting with different cuisines such as Italian, French, Thai, etc. Feeling adventurous? Pair them with your favorite whiskey or cognac for a truly unique flavor experience. And don't forget to add them to your next charcuterie board for a burst of intense aroma and flavor. Trust us, once you try these peppercorns, you'll wonder how you ever cooked without them!